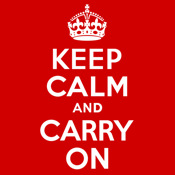 Keep Calm and Carry On for iOS by Back Bay Bytes
Click here to download!


Privacy Policy:
Keep Calm and Carry On for iOS includes features for sharing content via Twitter, Facebook, Tumblr and other social media services.
Keep Calm and Carry On for iOS ("the app"), and its producer, Back Bay Bytes LLC, will NEVER read or use any of your personal information for ANY reason, with the sole exception of posting content at your explicit request. I.e., if you wish to post content you create in the app from directly within the app, you can grant the app access to any one of the supported social media services. If you do grant access, the app will then allow you to post content. It will never read, access, distribute or collect any information from you or your social media profiles other than that which is required in order to post the media you specifically request to be posted. No information of yours will ever be collected by, or stored on, Back Bay Bytes LLC's servers, and if you deauthorize the app from accessing any one of your social media services, it will no longer have any access of any kind to that service. The app may collect completely anonymous usage statistics and/or crash reports in order to aid continued development of the app. None of this information will ever include any personal identifying information or content created by you (for example: text you enter into the app, images you use as backgrounds/icons, or any personally identifying information, will never be collected). For any questions, contact us at backbaybytes@gmail.com.